Last week I sent an email out to all our clients telling them January 15 is their last chance to make their 2018 CPP remittance. The maximum amount for 2018 is $5,187.60. I hope you got in while it was cheap, because our Prime Minister is hiking this up to $8,653 by 2025 - a 67% increase in 7 years!
The rate at which we contribute to CPP will increase from 9.9% to 11.9%, and the maximum amount at which that rate is applied, is increasing from $55,900 to $79,400. The cost of each employee will be $3,466 more expensive for employers in 7 years! Let us break it down for you.
Here is a table of the CPP changes for 2019: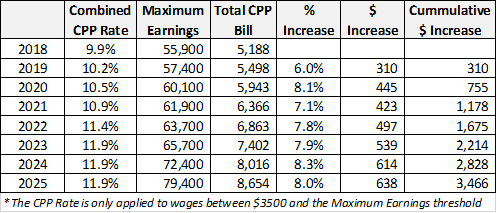 They call it "CPP Enhancement." And the goal is to increase the CPP benefit from 25% of household income to 33% of household income. For 2018, the maximum CPP benefit was $13,610, and by 2065, this amount will increase to $20,750 (in 2018 dollars).
But don't count on benefiting from the increased benefits unless you're under the age of 30. If I have recommended you take wages from your corporation instead of dividends, we should probably take another look at your situation for 2019.
If you have questions about how these changes may impact you, don't hesitate to reach out. As small business accountants, it's our job to keep track of and understand all the changing tax laws and help you make the accounting decisions that are best for you and your business.
Read more about Corporate Tax topics that may be helpful to you and your small business.
---
Like what you hear?
Are you on the hunt for a more proactive small business accountant? That's us.