As a small business, we use the same tools we recommend to our clients. Because everyone — including us! — wants to save time on everyday tasks so we can focus on innovating and building our businesses. Xero is small business accounting software that lets you automate tasks, get up-to-date financials and run your business on the go.
You may be wondering: What's the best way to use Xero for my small business? Is it right for my size or industry? In this blog, we'll share different use cases and ways Xero can help your small business.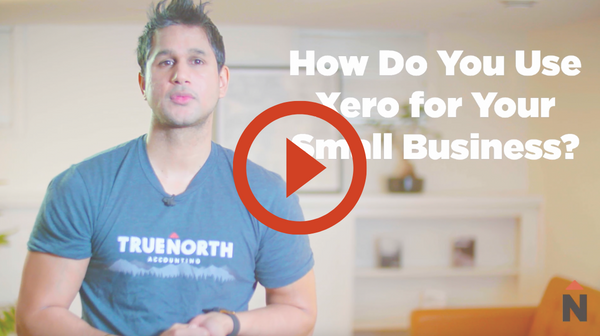 VIDEO: Dil at True North Accounting shares tips for using Xero for your small business.
Why use online bookkeeping software?
Many small businesses use online bookkeeping software to cut down on manual tasks and ensure accuracy and efficiency in data entry. Small business owners also use online bookkeeping software to:
Speed up bank reconciliations
Pay bills automatically
Send automated invoice reminders to clients
Check their cash flow by phone
Find out when sales invoices are paid
What can Xero help me do?
Small business owners use Xero for a variety of reasons, whether it's to customize invoices or to run their company from wherever they are. Xero can help you:
Run your business on the go
Download the Xero and Hubdoc apps on your phone. Xero lets you invoice and look up contacts, and with Hubdoc you can snap pics of receipts from your phone. So you can run your small business from wherever you are.
Check your financial health
Understand your financials better with Xero's dashboard and analytics tools so you can make informed decisions about your business.
Accept payments instantly
Accept payments faster online with a debit or credit card, or with select third-party payment services, right from the invoice. You can also customize your invoices the way you like by adding your logo, payment terms and payment options.
Small businesses also use Xero to:
Track bank balances, invoices and bills
Capture costs to submit and claim expenses
Connect to their bank accounts and set up bank feeds
Quote, invoice and track projects
Keep pay records online and do pay runs
Reconcile bank account transactions
Manage their contacts
Get copies of documents and key data
Manage and share documents online
Track finances with accurate accounting reports
Keep track of inventory
Get paid in multiple currencies
Create and send purchase orders
Design professional online quotes
Calculate taxes for GST/HST filing
Manage fixed assets
How to use Xero
Xero has a series of videos to help entrepreneurs and business owners become familiar with the basics of Xero. Whether you're running your own books on Xero, or are looking to get started, Xero makes managing small business finances easier, so you can focus on your actual business.
Want a step-by-step guide to setting up your small business with Xero? Read our blog!
Read more about Small Business Basics topics that may be helpful to you and your company. And reach out to us if you'd like to chat about how True North can help you with your bookkeeping (and build your business!).