At True North, we're all about using the right tools to help your small business work smarter, not harder. That's why we love using Xero — it's an accounting software specifically designed for small businesses that lets you automate everyday tasks, get up-to-date financials and run your business from anywhere. It makes bookkeeping more accurate and efficient than the old way of entering receipts and invoices.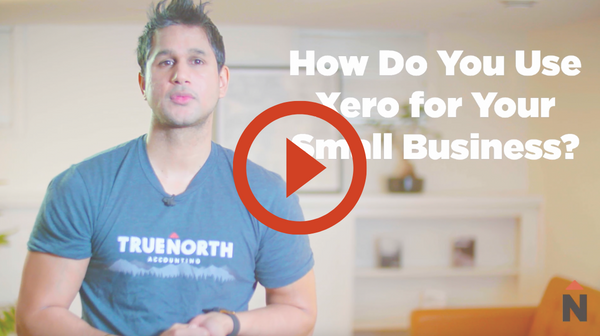 VIDEO: Dil at True North Accounting shares tips for using Xero for your small business.
Why Xero?
There are many reasons why we use Xero, and recommend it to our clients.
Professional (good-looking) invoices
Customize invoices the way you like by adding your logo, payment terms and payment options like PayPal or Stripe. You can even email your invoices to clients so you can get paid faster than traditional invoices.

It works with your banking
Connect your bank feeds to your chequing account and credit card. This will bring your bank transactions into Xero everyday, so you can sort them into the proper accounts on your books.
You get a free Hubdoc account
Hubdoc is like a smart digital filing cabinet where you can send all your receipts and business documents for safekeeping. It fetches and saves your bank and other account statements each month. You can also send invoices and receipts to Hubdoc — it'll extract key data and help set up bills in Xero.
You can run your business on the go
Download the Xero and Hubdoc apps on your phone. Xero lets you invoice and look up contacts, and with Hubdoc you can snap pics of receipts from your phone. So you can run your small business from wherever you are.
Which plan is right for me?
Xero has a ton of features to help you build and run your business. You can keep accurate records by quickly categorizing your bank transactions, track your business health and get paid faster with online invoices and reminders.
The three Xero business plans — Starter, Standard and Premium — cover the basics with a monthly fee. Additional users cost extra.
The Starter plan is $17 CAD a month and lets you send 5 invoices and quotes. You can reconcile 20 bank transactions and capture bills and receipts from Hubdoc.
The Standard plan is $42 CAD a month. You can send unlimited invoices and quotes. Reconcile as many bank transactions as you need, and capture bills and receipts from Hubdoc.
The Premium plan is $54 CAD a month and has all the same features as Standard, with one added feature: it can handle multiple currencies.
Set up Xero for your business
Xero has a series of videos to help entrepreneurs and business owners become familiar with the basics of Xero. These are for users who are running their own books on Xero, or are looking to get started on it. You'll find Xero makes managing small business finances easier, so you can focus on your actual business. Here's how to get started:
Set up your business on Xero (video)
You can start and manage your free trial account. Play with a demo company if you wish and get support with any questions that you may have.


Get to know the dashboard

(video)


This displays all of your most important financial information.

You'll find everything you need to know how your business is performing each month.



Edit your settings

(video)
Now it's time to enter your

financial

and

organizational settings

. What is your year-end? Your GST number? Do you use the accrual or cash method?



Customize your invoices

(video)
After adding your company's branding, verify your address, contact information and social media links are accurate so your customers can easily reach you.



Connect your bank accounts

(video)


Set up your bank accounts in Xero and connect bank feeds to bring in all bank transactions in real time.



Reconcile your bank accounts

(video)


With auto match and bank rules, you can quickly reconcile your bank transactions.



Connect your apps
Navigate the Xero App Marketplace to find the apps that are best suited to your business. You can use Plooto for accounts receivable and accounts payable automation, Stripe to accept debit and credit card payments, and Hubdoc, which comes free with Xero Business, to help manage your receipts.

Manage expenses and projects
Xero captures costs to submit and reimburse expense claims, and lets you view spending with expense manager tools.

Track projects and jobs with Xero. Quote, invoice and get paid for jobs. Plus, you can keep track of costs and profitability.
More small business apps
While Xero is a stellar cloud bookkeeping and accounting software for small businesses, it doesn't handle everything. You'll need other apps to help you keep track of mileage, payroll and time tracking. Here are ones we recommend:
Mileage: Keep track of your personal vs. business mileage accurately and effortlessly – we like MileIQ for this.
Time tracking:

QuickBooks Time

lets team members track their time. It also integrates with payroll software.
Read more about Small Business Basics topics that may be helpful to you and your company. And reach out to us if you'd like to chat about how True North can help you with your bookkeeping (and help to build your business!).